Check out this gorgeous winter wedding! Have I mentioned that I LOVE winter weddings?! They are the best. There are so many great opportunities to incorporate rich and elegant details, just like Meredith and Jack did at their January wedding in Columbus, Indiana! The ceremony was held at a beautiful church followed by a fresh rose petal send off into a horse and carriage, how much more magical can you get? Meredith and Jack celebrated their nuptials with their closest friends and family overlooking downtown Columbus. I was in love with the rich color pallet of dark greens and golds, calmed by an all white floral pallet, perfection. And, I can't not mention that dress! That dress! So elegant and classic. Hope you enjoy these amazing photos from Rebecca Shehorn Photography!
Shout out the the amazing vendors!
Wedding Planning/Coordination: me! Ashley Weddings & Events
Photography: Rebecca Shehorn Photography
Ceremony Location: First Presbyterian Church
Reception Location: The Commons
Florist: Pomp & Bloom
Catering: First Class Catering
Bar Tending: Joe Willy's
Cake: Icing on the Cake by Kristina
Band: Sly Band
Chair Rental: Perfect Parties
Linen Rental: Connie Duglin Specialty Linens
Hair and Makeup: Leslie White Hair and Makeup
Bride's Dress: Marie Gabriel Couture
Alterations: The Tailored Fit
Tux Rental: Dell Brothers
Another gorgeous stunner of a wedding at Deer Park Manor! Corina and Seth chose one of my favorite months to tie the knot at one of my favorite wedding venues in Bloomington, Indiana. Corina chose a color pallet of dusty purples and cream and added rich mahogany chaivari chairs to accent. The white tent twinkled under hundreds of lights making a super romantic glow! I can't get over the tent lighting!! The bride stunned everyone in her perfectly form fitted dress and the maids in shades of light pink and lavender were the perfect compliment. I just loved this wedding!!
Shout out to the amazing vendors!
Wedding Planning/Coordination: me! Ashley Weddings & Events
Venue: Deer Park Manor
Photography: InBloom Photography
Ceremony String Duo: IU School of Music
Flowers: Kris Higgins
Catering: Cynthia Moriarity Catering
Bar Service: Mother Bears
Cake: Casey Wilson
DJ: Dash DJ
Lighting Tech: Big Picture Productions
Mahogany Chairs: Fifty Chairs
Linen Rental: Connie Duglin Linens
Hair/Makeup: Royale Hair Parlor
Alterations: The Tailored Fit
This is a THROWBACK and a throwback that I LOVE!! One of the best things about wedding planning is meeting all of my amazing couples at their best in life, SUPER in LOVE! and then continuing to follow their journey through this amazing life :) I truly am lucky to meet such amazingly in love couples and Sam and James are no exception! Tying the knot in one of the best months, September!, at one of the best wedding venues in Bloomington, Deer Park Manor! Sam and James had one of my favorite wedding days. Now about to have an additional blessing in their lives, a BABY! I thought is was appropriate to relive this amazing day! Check out their gorgeous "Shabby Chic" wedding on the blog! XOXO! Morgan
Shout out to the amazing vendors!
Planning/Coordination: me! Ashley Weddings & Events
Ceremony/Reception Venue: Deer Park Manor Bloomington, Indiana
Photography: Josh Marshall with Sunlit Images
Videography: Ben Goodrow
Flowers: Artful Blooms
Decor Rental: Violet Vintage
Catering/Bar: KRC Catering
Cake/Cupcakes: Icing on the Cake by Kristina
DJ: DJ Brian Jackson
Hair/Makeup: Royale Hair Parlor
Ceremony Musician: Charlie Jesseph
A very cool, and a very art-deco wedding happened to fall into our laps last August, and oh boy am I glad that it did!! Sarah and Matt had one of the coolest weddings incorporating so much of their own unique personalities including their awesome last name, Batman, into such a beautiful wedding day! They chose to say their 'I do's' in the outdoor courtyard of the First United Methodist Church in Bloomington. A church that is near and dear to the couples hearts. Following up the celebration in style at Space 101, a hidden treasure overlooking downtown Bloomington. The couple offered their wedding guests a delicious spread from a few local favorites: catering and sweet treats {check out those macaroons!} from Feast, some of the BEST cold brew coffee a girl {or guy!} could ask for from Uel Zing coffee…oh and great brew from Function brewery and wine from Oliver Winery! It really was a 'I love local stuff' wedding…filled with other types of love of course! Sarah DIY'd the perfect amount of decor personalizing their wedding to perfection, even creating 'Batman' themed paintings to hang around the gallery style reception room, honoring the couples last name! The bride nailed her vision and I loved it! Hope you enjoy these amazing photos captured by Holly Gibson! Enjoy!
XOXO! Morgan
Shout out to the amazing vendors!
Planning/Coordination: me! Ashley Weddings & Events
Church: First United Methodist Church
Reception Location: Space 101/The Lodge
Ceremony Musicians: IU School of Music {Musical Attractions}
Photography: Holly Gibson
Flowers: Harvest Moon Flower Farm
Catering: Feast
Coffee Bar: Uel Zing Coffee
Brew: Function Brewery
Rentals: Perfect Parties Tents & Events
Pink, pink, pink, pink…glam and sparkles! LOVED helping put together this super girly wedding we had the pleasure of being a part of! Every shiny detail helped me get closer and closer to the bride Maureen and her Kate Spades, I loved every second of it! For the ceremony, we filled the sides of the aisle with a carpet of fresh pink rose petals. The ceremony chairs were swaged with white tulle and attached with crystal butterfly clips to name just a few small details. The bride wore her veil ALL night {she should get a major award!!} and had a rockin' after party dress she changed into for the last few songs of the evening! I LOVE an outfit change! I hope you enjoy these photos from the amazing Jeff Mackey Photography…the photos also remind me of the Royal Wedding, so I'm naturally obsessed with them :)
XOXO! Morgan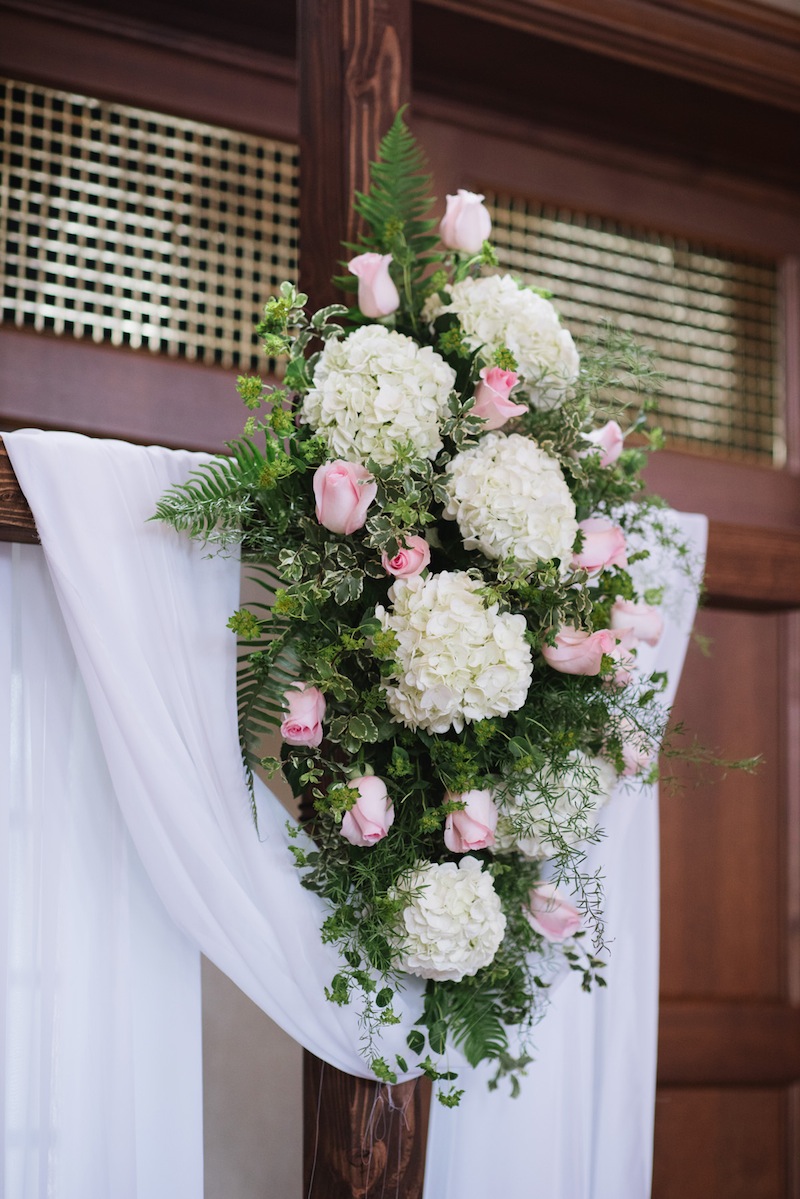 Shout out to the vendors!
Wedding Planning/Decorating/Coordinating: me! Ashley Weddings & Events
Photography: Jeff Mackey Photography
Ceremony/Reception Venue: Alumni Hall, Indiana Memorial Union
Catering/Bar/Cake: Indiana Memorial Union Weddings
Florals: Ashley Weddings & Events & Bailey's
Jazz Trio: Matthew Waterman
Lighting Technician: Big Picture Productions
String Quartet: IU School of Music
Photo booth: 4 Fun Fotos
DJ: DJ Master Mix
Rentals: Perfect Parties Tents and Events
Dress Shop: Sophia's
Hair Stylist: Maria Cabrera